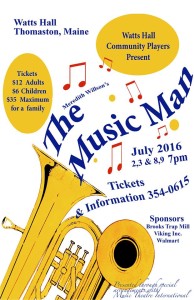 Related performance
Artist:

Sean Fleming

Date:

07/03/16 - 07/09/16

Time:

7:00pm

Venue:

Watt's Hall

City:

Thomaston

Address:

174 Main Street, Thomaston, ME 04861

Country:

United States

Admission:

$12 adults, $6 children, $35 maximum for a family

Age restrictions:

All Ages

Box office:

207-354-0615

Notes:

The Watts Hall Community Players present "The Music Man," directed by Daryl Hahn with music direction by Sean Fleming. The show will be accompanied by a 10-piece pit band. Members of the cast range in age from 6 to almost 80 and include singers, dancers and a barbershop quartet. Support for this production, a revival for the group after a twenty five year hiatus, has been tremendous. The players are proud to acknowledge Viking, Inc is major sponsor for 2016, as it was 25 years ago. Other sponsors include Brooks Trap Mill and Walmart. Performances will take place at 7 p.m., on Friday and Saturday July 2nd and 3rd and Friday and Saturday July 8th and 9th. Tickets will be on sale at the door from 6pm – 7pm on the night of each performance. Although there is no reserved seating, tickets may be reserved and held at the door. Reserve tickets in advance by calling 207-354-0615. The plot concerns con man Harold Hill, who poses as a boys' band organizer and leader and sells band instruments and uniforms to the naive Iowa townsfolk, promising to train the members of the new band. But Harold is no musician and plans to skip town without giving any music lessons. Prim librarian and piano teacher Marian sees through him, but when Harold helps her younger brother overcome his lisp and social awkwardness, Marian begins to fall in love. Harold risks being caught to win her. In 1957, the show became a hit on Broadway, winning five Tony Awards, including Best Musical, and running for 1,375 performances. The cast album won the first Grammy Award for Best Musical Theater Album and spent 245 weeks on the Billboard charts. The show's success led to revivals, including a long-running 2000 Broadway revival, a popular 1962 film adaptation and a 2003 television remake.